"15 Minutes of Laughter" – online mini laughter workshop
Lots of fun & new energy!
Are you having an online video meeting soon? Then it's time for a laugh! Enjoy "15 Minutes of Laughter" with your colleagues during this cheerful online mini laughter workshop. I'll join your video meeting and then we just laugh together! It gives you lots of fun and new energy! Guaranteed!
Short and sweet
15 minutes of fun about nothing at all!
We're gonna laugh for no reason at all. It works because it's very contagious to hear and see each other laugh. That releases stress and gives you new energy!
Surprise your colleagues!
I can be a surprise guest at your video meeting. The only person who needs to know this in advance is you …
All platforms are fine
Zoom, Google Hangouts, Microsoft Teams, or any other platform is fine. As long as we can see and hear each other.
Lots of laughter – low price
This online "15 Minutes of Laughter" is not too expensive. Ask for your offer and you will know within a few minutes.
No Laughter? No Pay!
Laughter is very contagious, and I'm sure there is gonna be plenty of laughter. That's why I dare to give you this guarantee: No Laughter? No Pay!
Curious? Offer?
Grab your phone, send me an e-mail, a WhatsApp message, or fill out this form.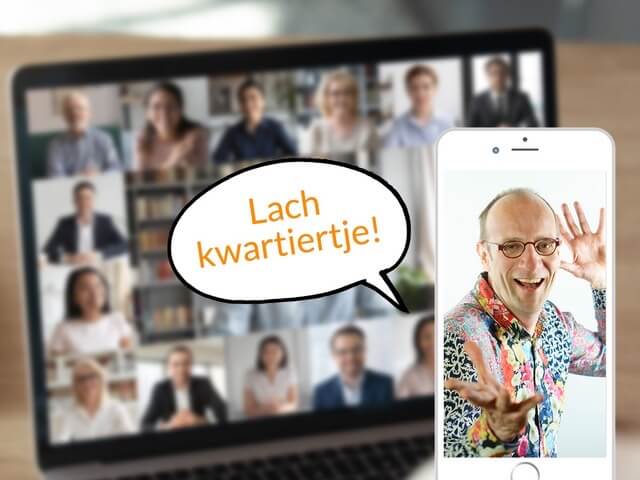 Some of my laughing customers…
They preceded you and already laughed:
"A briljant idea, this 15 Minutes of Laughter. It gave us new energy! Jan had us weak with laughter in no time, and we are still talking about how much fun it was. Especially in these worrisome times of corona, wonderful to be carefree and have fun! Never had such a happy work meeting… "
"Yesterday we had 15 Minutes of Laughter with Jan during our online Friday afternoon drinks! Laughing into the Easter weekend !! Highly recommended."
"As far as I'm concerned, Jan is a first-class (laughter) coach, unique in its kind where passion, drive and helping others comes first. I can recommend Jan's workshops to everyone and I am already looking forward to our next meeting!"